Activities
Corvette = Poetry in Motion
CCI Activities
There are many ways to participate as a CCI member. Listed below are just a few. If you are interesting in learning more about CCI, stop by one of our events or contact us here.
Competition:
CCI members have the opportunity to participate in events that challenge their racing prowess and automotive dexterity. CCI hosts weekend autocross events at the Ankeny Regional Airport, Chariton Airport and other fun weekend events. The NCCC West Region serves up a full slate of drag and autocross events throughout the Midwest.
Meetings:
CCI's general meetings are held on the third Tuesday of each month at different locations throughout greater Des Moines. The location of the monthly meeting is listed on Calendar. Check out the Newsletter site for more details.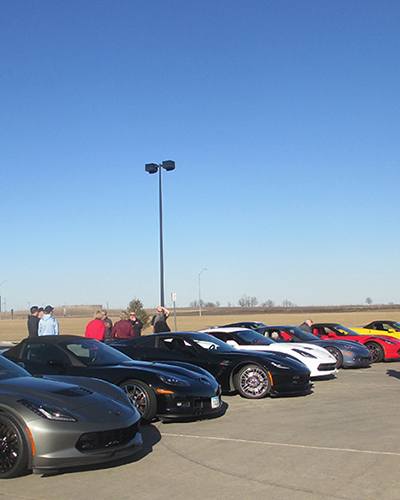 Community Involvement:
It's no surprise to find CCI Vettes in parades or on a race track, but did you know that we are also passionate about helping our communities? CCI proudly helps raise funds for Adopt A Star, Toys for Tots, Scholarships and other charitable needs that improve the quality of life for citizens of the great state of Iowa.
Good Times, Great Friends:
CCI members share a common bond in their love of Vettes. That may be the initial reason why people are attracted to the club. The reason why they stay as members is because of friendships that are formed during cruises, parades, progressive dinners, charity events and just good conversation.
Corvette Club at Freedom Rock
We joined for the car, we stay for the people.